We've got a full packed live stream lineup for you this week. Kicking off the week strong, Disclosure will be performing live at Plitvice Lakes in Croatia. Fans of the popular dance duo are certainly in for a treat during this quarantine. In addition, Ophelia Records is, once again, holding some special live events, beginning with Born, a live stream hosted by MitiS. Partnering with Insomniac, Ophelia artists will be joining the label veteran to perform for viewers around the world.
After blowing fans out of the water with his set at the Gorge last week, Seven Lions returns with another edition of Visions. This episode will feature a special throwback set by the adored melodic dance music maker. Dylan Matthew, Crystal Skies, Inukshuk, and Gem & Tauri will also be joining him for this unique live stream.
There will also be a few digital festivals happening this weekend. First, you don't have to feel alone this weekend during the quarantine. Alone Together is a live stream festival that will take place for two days that aims to virtually gather dance music lovers from around the world. Some artists performing during the special event are 3LAU, GRAVEDGR, Tritonal, Nurko and Nitti Gritti. If this festival hasn't caught your eye, then there is always Virtual Sail Aways Live by Groove Cruise. Benefitting the Whet Foundation COVID-19 Relief Fund, viewers will be able to watch performances by some of their favorites artists. Some of these performers include Morgan Page, Fatum, Karra, Lizzy Jane, and Gem & Tauri. 
If you're ready to party at home during this quarantine, then check out the EDM Sauce Quarantine Live Stream list for the week of August 17th.
Monday, August 17th
Sofi Tukker
Daily Live Stream
10 AM PDT/ 1 PM EDT
Dash Berlin
#DailyDash
11 AM PDT/ 2 PM EDT
Morgan Page
Quarantine Sessions
7:30 PM PDT/ 10:30 PM EDT
Jauz
New Stream Who Dis? Demo Roulette and Sub Games 2.0
5 PM PT/ 8 PM ET
Gabriel & Dresden
Club Quarantine
6 PM PDT/ 9 PM EDT
Disclosure
DJ set live from the Plitvice Lakes in Croatia
10 AM PT/ 1 PM ET
Tuesday, August 18th
Sofi Tukker
Daily Live Stream
10 AM PDT/ 1 PM EDT
Dash Berlin
#DailyDash
11 AM PDT/ 2 PM EDT
Trivecta
#TrivectaTuesdays
2 PM PT/ 5 PM ET
Ophelia's Odyssey Replay
Episode 2, Trivecta
3 PM PT/ 6 PM ET
Infinite Skies
Performance by ARMNHMR. Featuring Wenzday and a live set by Dia Frampton.
8 PM PT/ 11 PM ET
Wednesday, August 19th
Sofi Tukker
Daily Live Stream
10 AM PDT/ 1 PM EDT
Dash Berlin
#DailyDash
11 AM PDT/ 2 PM EDT
Jauz
Wednesday Music Stream
12 PM PT/ 3 PM ET
Kill The Noise
Production Stream
2 PM PT/ 5 PM ET
Craze
Live From Miami with special guest A-trak.
6 PM PT/ 8 PM ET
Dimibo
DJ set
7 PM PT/ 10 PM ET
Morgan Page
Quarantine Sessions
7:30 PM PDT/ 10:30 PM EDT
Insomniac Records
Performance by Dustycloud.
8 PM PT/ 11 PM ET
Thursday, August 20th
Sofi Tukker
Daily Live Stream
10 AM PDT/ 1 PM EDT
Dash Berlin
#DailyDash
11 AM PDT/ 2 PM EDT
Jauz
Bite This Radio Live
12 PM PT/ 3 PM ET
Adisyn
Live from the Club Space Terrace
3 PM PST/ 6 PM EDT
Lindsey Stirling
Live virtual concert experience benefiting St. Jude Children's Hospital.
3 PM PT/ 6 PM ET
Jason Ross
#AtlasThursday
8 PM PT/ 11 PM ET
Club Soda
Streaming every Thursday.
8 PM PT/ 11 PM ET
Friday, August 21st
Sofi Tukker
Daily Live Stream
10 AM PDT/ 1 PM EDT
Dash Berlin
#DailyDash
11 AM PDT/ 2 PM EDT
Gabriel & Dresden
#ClubQuarantine
3 PM PT/ 6 PM ET
Last Heroes
Fan Chat + Q&A
6 PM PT/ 9 PM ET
Morgan Page
Quarantine Sessions
7:30 PM PDT/ 10:30 PM EDT
Corona Sabbath
Diplo & Secular Sabbath with Rhye
8 PM PDT/11 PM EDT
Born: Hosted by MitiS
Digital event with performances by Mitis, Benzi, Crystal Skies, Rico & Miella, and Trivecta.
8 PM PT/ 11 PM ET
Virtual Sail Aways Live
Three-day digital festival brought to you by Groove Cruise: Day 1.
TBA
Saturday, August 22nd
DJMag
Top 100 DJs Live Stream
4 AM PST/ 7 AM EST/ 12 PM BST
Sofi Tukker
Daily Live Stream
10 AM PDT/ 1 PM EDT
Dash Berlin
#DailyDash
11 AM PDT/ 2 PM EDT
Alone Together
Two-day digital festival hosted by Matoma: Day 1.
1 PM PT/ 4 PM ET 
Seven Lions
Vision #4: Featuring a throwback set by Seven Lions and performances by Dylan Matthew, Crystal Skies, Inukshuk, and Gem & Tauri.
5 PM PT/8 PM ET
Gabriel & Dresden
#ClubQuarantine
6 PM PT/ 9 PM ET
Diplo & Dillon Francis
Coronanight Fever
8 PM PDT/11 PM EDT
Basscon Freakshow
Hosted by Lil Texas with performances by Deadly Cons, GEO, GPF, GRAVEDGR, and Rooler.
8 PM PT/11 PM ET
Crystal Skies
Visions Afterparty
9:30 PM PT/ 12:30 AM ET
Virtual Sail Aways Live
Three-day digital festival brought to you by Groove Cruise: Day 2.
TBA

Sunday, August 23rd
DJMag
Top 100 Alternative DJs Live Stream
4 AM PST/ 7 AM EST/ 12 PM BST
Sofi Tukker
Daily Live Stream
10 AM PDT/ 1 PM EDT
Dash Berlin
#DailyDash
11 AM PDT/ 2 PM EDT
Phantoms
The Dive
1 PM PT/ 4 PM ET
Alone Together
Two-day digital festival hosted by Matoma: Day 2.
1 PM PT/ 4 PM ET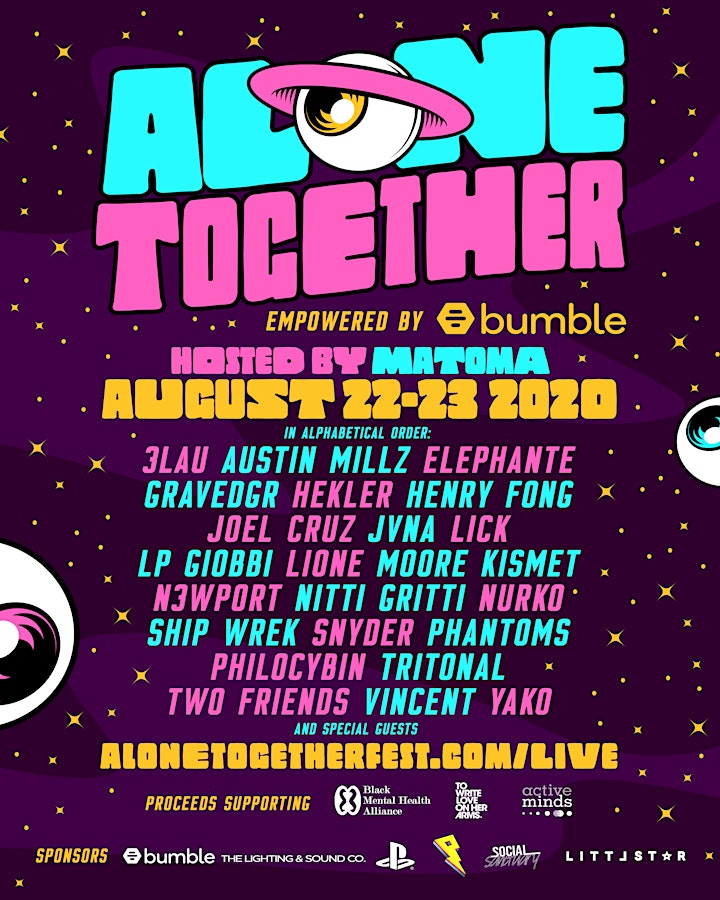 Gabriel & Dresden
#ClubQuarantine
6 PM PT/ 9 PM ET
Major Lazer
A Very Lazer Sunday
6 PM PT/ 9 PM ET
Dreamstate Artist Series
With performances by Talla 2xlc and Lange
8 PM PT/ 11 PM ET

Virtual Sail Aways Live
Three-day digital festival brought to you by Groove Cruise: Day 3.
TBA